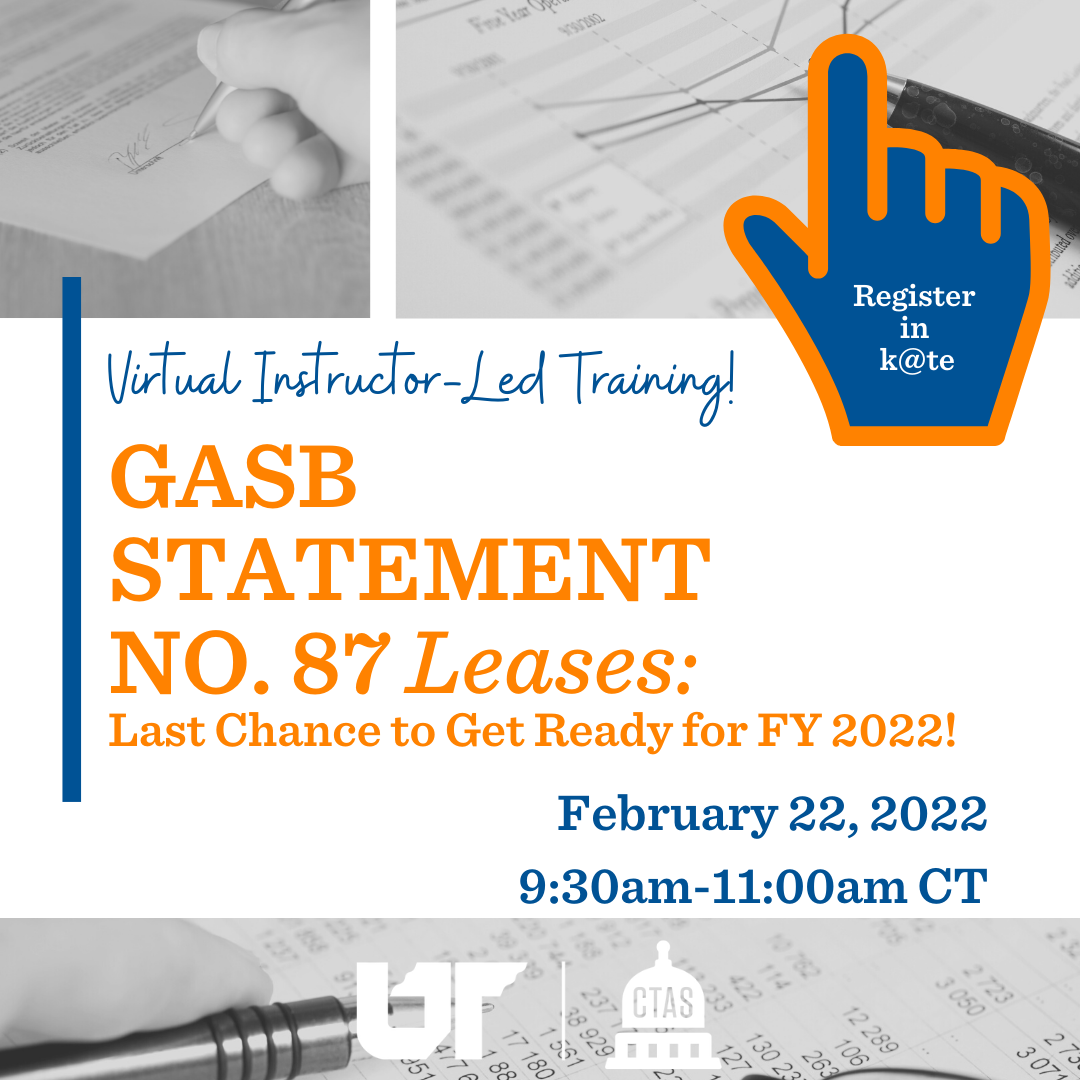 Presenters: John Sutton, CTAS CCFO Program Manager and Rachel Ellington, CTAS CCFO Training Consultant
Course Description
County and City Mayors, City Managers, Director of Schools, County Highway Officials and others in local government management are responsible for accumulating all lease contract information for the FYE June 30, 2022.  This course is designed to enable local government officials, budget/finance directors, and their staff, to better prepare for GASB Statement No. 87 Leases which is effective for FYE June 30, 2022.  Beginning asset and related lease liability amounts must be calculated as of July 1, 2021 (FYE June 30, 2021).   This course can help identify the internal process of accumulating lease contract information and understand the accounting issues to be better prepared for your FY 2022 annual external audit.  Currently the Tennessee Comptroller's Office of Local Government Audit (LGA) is taking the position that if the County does not prepare these lease accounting schedules and have copies of lease contracts available for examination by the auditors then you may receive a possible audit finding for FY 2022.
This course qualifies for 1.5 hours of continuing professional education (CPE) credits for Certified County Finance Officer (CCFO), Certified Municipal Finance Officer (CMFO), Certified Public Accountant (CPA), CTAS COCTP program and for County Commissioners.  
Note: To receive CPE credit participants must respond to all 11 knowledge check Zoom polling questions throughout the entire presentation.  Participants attending live online courses are required to have a working camera and microphone.  Cameras must be active during the entire session. Participants without a camera or microphone are welcome to join the session, but they will not receive credit for the course.  Participants may use a desktop, laptop, or tablet to attend and participate in a session. iPhones and Android phones are NOT acceptable devices to use.  Google Chrome is the recommended internet browser.
Completion of this CTAS course qualifies for 1.5 hours of CPE credit for CCFOs.
Please note that seats are limited for Virtual Instructor-Led sessions to allow CTAS to monitor participation. 
The Finance Essentials Series is being recorded and uploaded into k@te as online classes.  They are available for viewing 24 – 48 hours after the class is complete.
Registration for Virtual Instructor-Led sessions closes 24 hours prior to the course to ensure all registered participants get the zoom link.