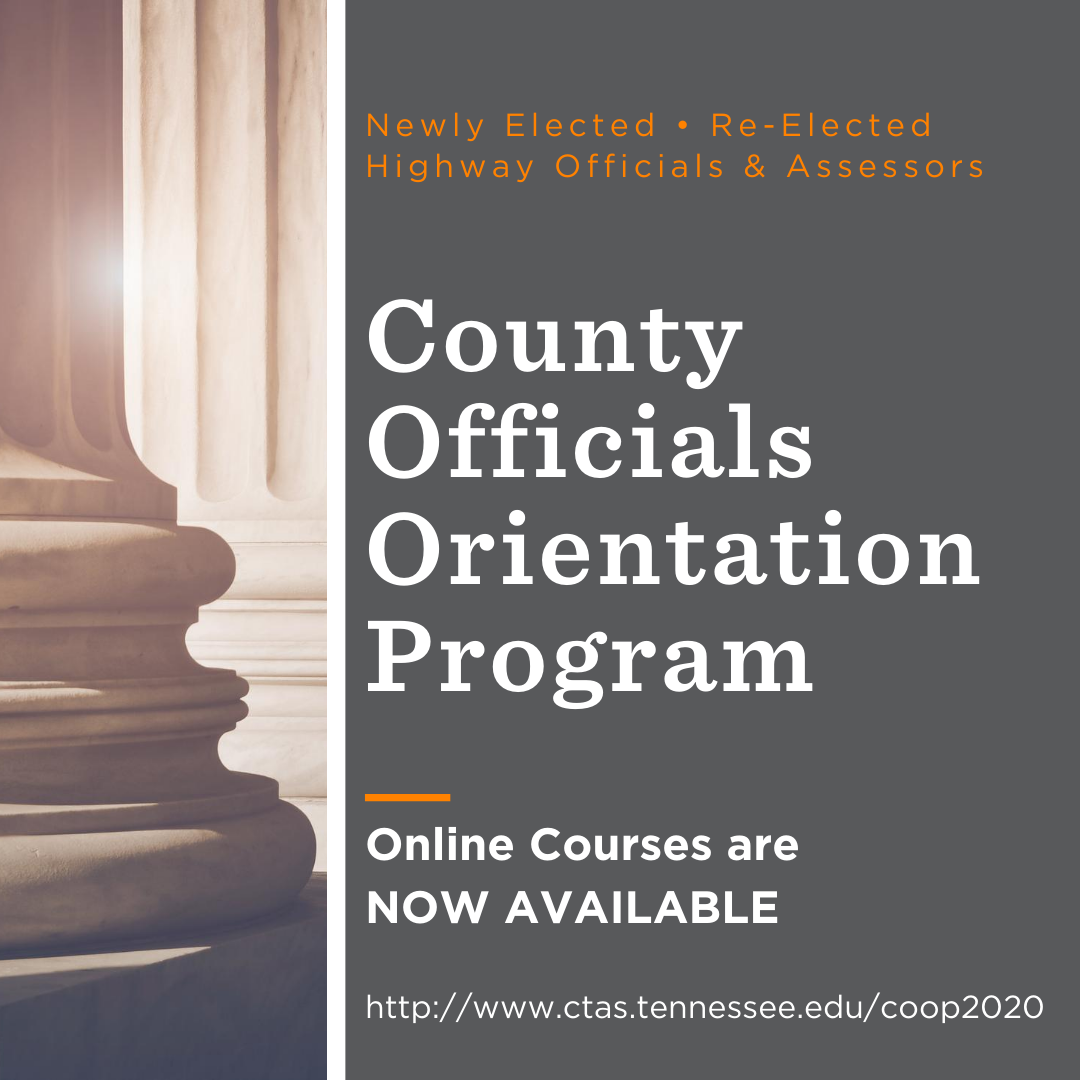 The County Officials Orientation Program (COOP) self-paced online courses are NOW AVAILABLE.
Visit our website to begin your training: http://www.ctas.tennessee.edu/content/coop2020.
COOP provides county officials, both newly elected and re-elected, with important information to help prepare them to assume office on September 1. Topics include county offices and authority, oaths and bonds, personnel issues, ethics, conflicts of interest, open meetings and records. Additional office-specific topics are also covered.
We will also provide 3 simultaneous virtual live sessions for county officials to meet CTAS staff and get their questions answered. These virtual live sessions are all scheduled for Tuesday, August 25 at 1:00pm CT. You can register now for these virtual, live sessions using the link below appropriate to your office:
Assessors of Property
https://bit.ly/MiniCOOP2020AssessorQandA
Highway Officials
https://bit.ly/MiniCOOP2020HighwayQandA
Other Officials
https://bit.ly/MiniCOOP2020OtherOfficialsQandA
We will be hosting the virtual, live sessions using Zoom. If you are new to using Zoom, we highly recommend watching this video to show you how it works: https://www.youtube.com/embed/hIkCmbvAHQQ?rel=0&autoplay=1&cc_load_policy=1
IMPORTANT: Please test your computer, microphone, and speakers ahead of the virtual live session. You can do so using this link: https://zoom.us/test
We look forward to working with you to better county government in Tennessee! If you have any questions, please email ctas.support@tennessee.edu.