COOP 2022 Home
|
Program Agenda
Coming soon!
If you are running for county office in Tennessee, keep an eye on this page for more information soon.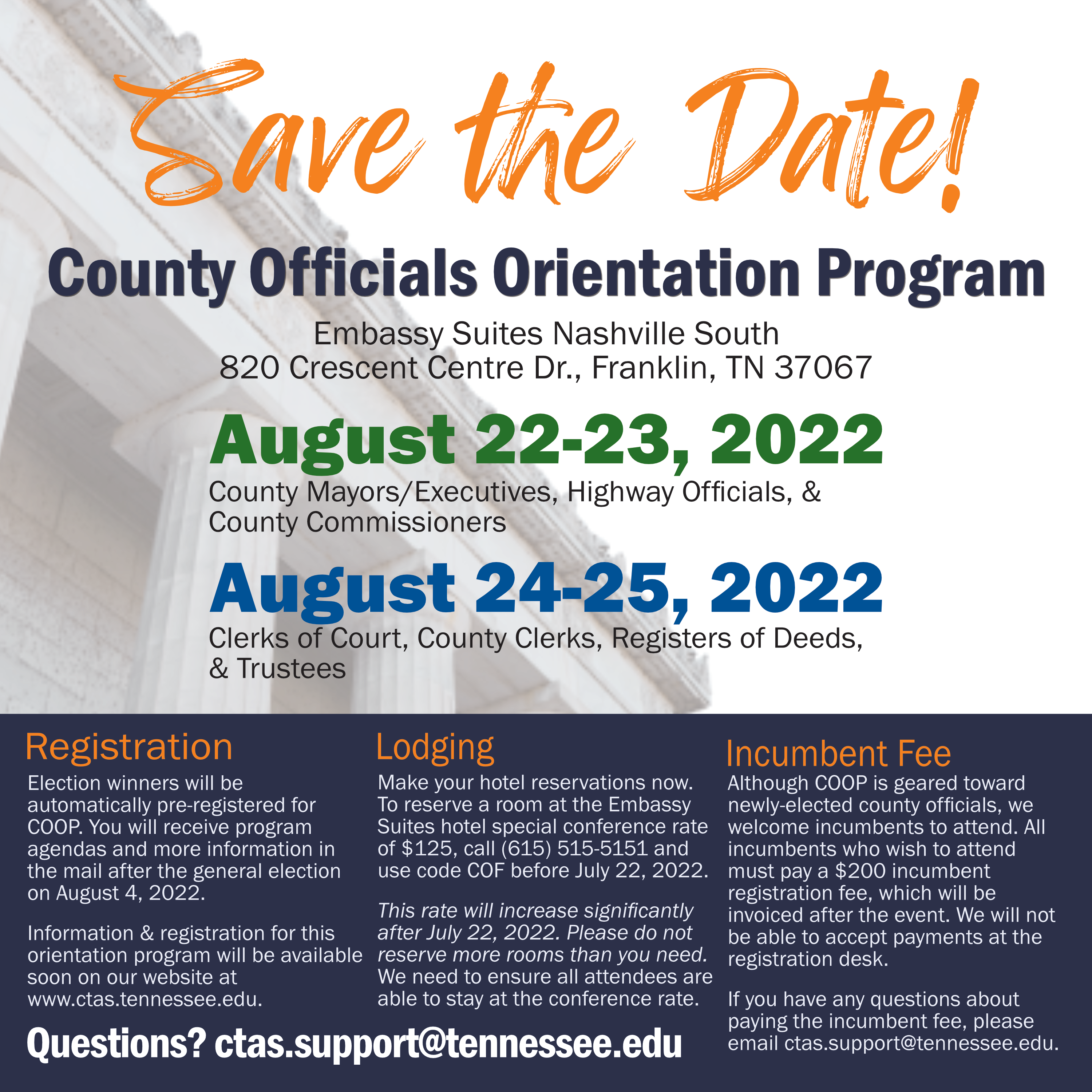 ​
The County Officials Orientation Program provides county officials, both newly elected and re-elected, with valuable information to help prepare them to assume office on September 1.
Topics include county offices and authority, oaths and bonds, personnel issues, ethics, conflicts of interest, open meetings, and records.
Registration
All newly elected officials will be pre-registered to attend after the August 4, 2022 elections.
You do not need to register yourself or do anything at this time. You will receive program agendas and more information in the mail after the general election on August 4, 2022.
Lodging
Make your hotel reservations now. To reserve a room at the Embassy Suites hotel special conference rate of $125, call (615) 515-5151 and use code COF before July 22, 2022. If you book by phone, please ask to speak with the sales coordinator, Bethany Blount, to ensure you receive the correct conference rate.
This rate will increase significantly after July 22, 2022. We understand that this deadline is before the general elections and that many people may not know if they will be attending until after the elections. This deadline was given to us by the hotel and is outside of our control. We apologize for any inconvenience.
Please do not reserve more rooms than you need. We need to ensure all attendees are able to stay at the conference rate.
Standard room reservation cancellation policies will be in effect for this conference. Please contact the hotel in the event you need to cancel your room reservation.
Incumbent Fee
Although COOP is geared toward newly-elected county officials, we welcome incumbents to attend. All incumbents who wish to attend must pay a $200 incumbent registration fee, which will be invoiced after the event. We will not be able to accept payments at the registration desk.
If you have any questions about paying the incumbent fee, please email ctas.support@tennessee.edu.