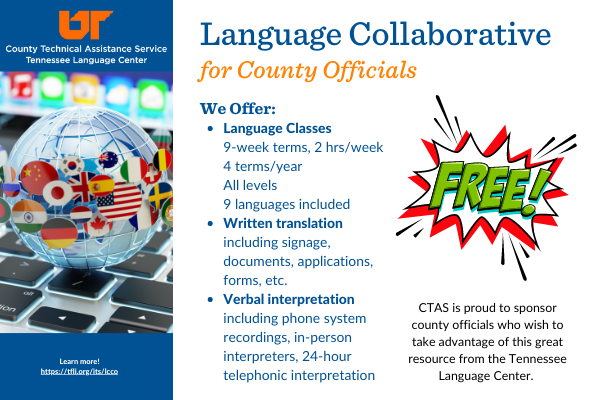 ​
Did you know CTAS has partnered with the Tennessee Language Center (TLC), an agency of the Institute for Public Service, to provide a language services program for county officials - the Language Collaborative for County Officials! This program provides FREE language services to county officials across Tennessee. CTAS will sponsor county officials' participation in or use of language services and classes offered by our sister agency, TLC.
Language Classes
TLC is currently registering students for our Spring term, with classes beginning the week of April 18. County government employees are eligible for a 15% discount to take any of the classes.Many of our classes are online in real-time, and available across Tennessee with several in-person options for those in the Nashville area. Classes generally meet once a week for 2 hours for 9 weeks.
Our new offerings this term include:
Deaf Culture - In addition to offering American Sign Language classes, TLC will offer a class on deaf culture as well for the Spring 2022 term.

Louisiana French - This is a course for advanced French speakers with an option to add on a summer trip to explore this part of French culture.
Two of our offerings last term were so popular, we are offering them again as well:
Youth Class for Japanese - TLC Classes are typically for ages 16+. This term, we are adding a new Japanese class for youth ages 11-15. The class is virtual, so can be taken from anywhere in Tennessee.

Japanese Calligraphy - For the first time, we will hold a Japanese calligraphy course for those interested in learning more about writing Japanese characters. This class will be in person at our Nashville location.
Languages offered at TLC include American Sign Language, Arabic, French, German, Italian, Japanese, Korean, Mandarin, Portuguese, Russian, Spanish, and English, from beginning to advanced levels.
More information on language classes:
Government Discount Application
Written Translation
Signage
Documents
Applications
Forms
and more
Verbal Interpretation
Phone system recordings
video-remote connections
In-person interpreters
Please note that this program is contingent on funding availability. Contact TLC today to learn more.